Traveling in the winter is awesome. At least I have always liked the winter holidays. Not only for skiing, ice-skating, sleigh-riding, and all the other winter activities that most of us love so much. Not only for the whiteness, when everything seems new and clean… And soft. You know that dampened sound that comes from all the snow on the trees and on the ground. It's magical and it's calming your stressed limbs and your tense shoulders. It's a time of rest and meditation.
Not only for all those things but also because winter is low season. Not in the mountains, not in Cortina d'Ampezzo, Courmayeur, and Madonna di Campiglio, where the season, ever shorter year by year is hectic from December to March. But in all the other places the crowds are gone.
Traveling in the Winter – The  Beach
If I have a Sunday off and my family is free too, sometimes we go to Cavallino or to Lido. The beach that in summer is so full of people that you have difficulties even getting down to the water from your Beach umbrella, is wonderfully empty. Birds, rabbits, and one or two lonely fishermen rule here now. And the walkers. People, who like us, love to walk along the sands, while the winter wind whips our faces or the cold blueish sun warms us up.
We can even let the dog loose. And he loves it, running from here to there over the wide, open sand. In summer we can't even bring him but in winter it's all his.
Traveling in the Winter – Venice
Well, If you'd like to visit Venice, traveling in the winter is perfect. I've said it many times before, and I say it again. Considering the massive invasion of tourists from April to November, and that it increases year by year, Winter is becoming ever more attractive as the best time to visit. Winter is cold and wet and windy. But it's empty, it's cheap and it's genuine. You have a chance to see some of what has made Venice such a strange, marvelous, and unique place in the world.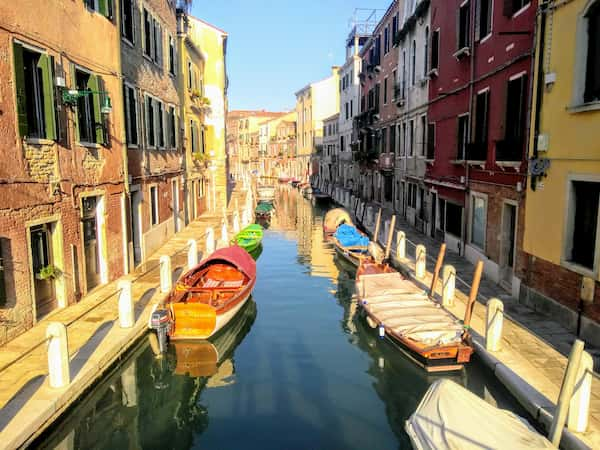 You can stop by at the Basilica, drop in on the St Mark's Belltower and still have time for a Gondola -ride before lunch. All without booking ahead. And you can easily find a table at the most crowded restaurants, and even find a place to sit on the Vaporetto. Venice is at its best in Winter.
Traveling in the Winter – Skiing
Traveling in the winter is of course also all the things I was talking about in the beginning. Winter activities. So, from a Venetian perspective, there one word that sums it up, one keyword that includes all the wonders of an active winter holiday…
Dolomiti Superski
Now I'm going to give you the figures because, from a global point of view, not many people understand what we actually have right here, just one hour and a half from Venice, driving north.
Dolomiti Superski is enormous. It consists of 12 separate resorts. Of these, about half is directly connected and the other half you can reach by ski bus. The whole area is covered by one single ski pass. For some reason, it doesn't count as a single area and for that, it doesn't appear in the biggest-ski-resorts-in-the-world context. Look at the figures and tell me if it isn't absolutely awesome.
On the south side of the Alps, the sun is stronger. Consequently, the season is shorter. And with the warmer aver all temperatures, the Italian ski season is at risk. In some valleys, only the south side is skiable, while the north side is for sunbathers.
But still, some years skiing is absolutely top class, maybe the best in the world. I've had friends from north of the Alps, who have been going to Austria, Switzerland, and even Sweden and Norway… Visiting our top resorts, Canazei, Alta Badia, Val di Fassa, and of course Cortina d'Ampezzo, many of them declare to not want to go nowhere else again. Dolomiti Superski has conquered them.
And the sun isn't only a negative factor. There's almost nothing in this world as pleasant as sitting in the sun at the top bar with a Bombardino, muscle soreness in your legs, looking out over the completely white mountains, stretching towards the horizon, and knowing that tomorrow… Well, tomorrow I'll be sitting here again…