Caorle lies some 30 miles northeast of Venice, as the crow flies. It is on the far side for an afternoon trip from La Serenissima. Still, if you want to experience some real traditional Veneto way of life, Caorle could be an awesome destination. Caorle is also a perfect place for a family holiday, as it has some really nice attractions, and facilities for children. It is a much more relaxed environment and maybe more fun than chasing museums and old buildings, as the main activity tends to be in Venice.
Caorle, the balanced holiday destination:
Why you should choose Caorle
Caorle is a hidden gem on the Adriatic coast. It has preserved at least some of its authentic atmosphere and traditions. Unlike other popular seaside resorts on the same coastline further up or down, Caorle is not crowded or noisy, but rather peaceful and cozy. It's a perfect destination for those who are in search of an easygoing atmosphere.
Caorle is also full of history and culture. It was one of the first settlements of the Venetian Republic, and you can admire some of the same cultural heritage as her big sister's. Moreover, Caorle is also a paradise for nature lovers, as it is surrounded by the typical canals, rivers, and lagoons, so representative of the Veneto landscape. You can enjoy hiking, biking, birdwatching, fishing, boating, etc. in the natural environment.
And of course, the stunning sandy beach that stretches for 3 miles along the whole coastline of the city. The beach is clean, well-equipped and as the water is, just like everywhere in this part of Italy, shallow… Perfect for children.
Why you should not choose Caorle
Caorle might not be for everyone, though If you are looking for a lively and trendy destination with nightlife and a lot of entertainment options, Caorle might not be for you. The town is rather quiet and laid-back. There are bars and restaurants, and you can eat drink, and go for a romantic stroll under the moonlight. But clubs or discos are rare.
Caorle is also not very convenient if you want to visit Venice, although there are private companies who drive there by boat following the shoreline all the way to Saint Mark's Square. To find a better destination for combining Venice with some swimming and sunbathing, you should search further west.
The History of Caorle – The Origins of the Republic of Venice
Caorle has a long and fascinating history that dates back to Roman times. It was founded as a military outpost and a trading port. After the fall of the Roman Empire, much like all the other urban centers around Venice, Caorle was invaded by various barbarian tribes. After them, came the Franks, and the Hungarians.
Probably, in the late 7th century the Republic was founded in Heraclia a few miles to the southwest. Further east in Grado the Archbishop was seated. All these towns on the coast were very important centers. They were big, strong, and rich, and they collaborated to defend their independence. All that changed in 810, when the Frank fleet attacked, and most of the Republic's wealth and political strength moved to Venice.
Also in the 7th century, noble men from Aquileia fleeing the Barbarians brought with them the relics of Saint Stephen ( Not all of him, just the head and a part of one of his hands. The rest is scattered all over Europe, and the middle east.).
Caorle became a close ally of Venice and contributed to the expansion and defense of the Republic for 1200 years. In exchange, Venice granted Caorle some unique privileges as well as a great deal of autonomy.
Caorle's wonderful historic center
One of the main attractions of Caorle is its historic center itself, the buildings, the streets. The city center around the Cathedral has retained much of its original medieval layout, easily detectable if you stroll along the winding alleys. Notice the difference between Roman cities like Verona, Chioggia, and cities with later city plans such as Venice, and the beautiful Castelfranco Veneto.
And the 3-mile sandy beach
One detail of Caorle which is on the plus side would be the beach. The 3-mile-long and very wide sandy playground is split into two parts divided by the town center. Levante is what the eastern side of the beach is called. It begins at the beautiful fisherman's church called Madonna dell'Angelo spectacularly positioned far out on the pier. This part is quieter and more natural, with dunes and pine trees. Ponente is the western part of the beach, which is more lively and crowded, with bars, restaurants, shops, and entertainment options.
The beach in Caorle is wide and long with shallow waters, ideal for families with children. As is common in Italy, you'll have private establishments with sunbeds, umbrellas, showers, toilets, and lifeguards. Many hotels have their own parts of the beach. If you want, there's also a vast choice of water sports such as windsurfing, kitesurfing, sailing, kayaking, and paddle boarding.
The main attractions in Caorle
But Caorle is not only the beach, and not even mostly the beach. I would say, it's mainly a fascinating little town with an interesting history. Just walking around in the old city center, or strolling along the seafront watching the boats on the Adriatic is awesome. If you want more culture than that, here are the main attractions of Caorle:
The Cathedral of St. Stephen: The oldest and most important church in Caorle. It was built in the 11th century in a Romanesque style. It has a few very interesting similarities with the Basilica in Venice. Caorle was a Bishopric until 1807.
Next to the cathedral, you can see the cylindrical bell tower with its typical roof in the form of a top hat. Just like the Bell Tower in Venice, it was probably not built as such, but as a watch tower. It served for surveilling the sea, and for detecting the ever-lurking danger of the Middle Ages… Fire. For 3 euros you can ascend to the top and enjoy a breathtaking view of Caorle, and the surrounding landscape.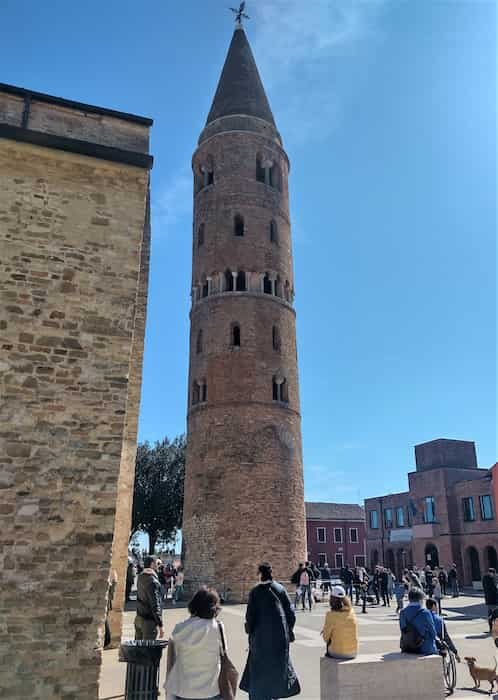 The Madonna dell'Angelo church: The small chapel at the end of Levante Beach, was built in the 18th century. It replaced an older sanctuary destroyed by a storm. It has a simple white facade and a dome covered with colorful tiles. The church is dedicated to the sea and those who depend on it for their livelihood.
The Scogliera Viva: It's an open-air museum that shows sculptures carved on the rocks along Ponente Beach. The sculptures are created by local and international artists every year during a competition held every two years in June called "Scogliera Viva". Artists who are internationally acknowledged are invited. Their creations are then incorporated into the outside wall of the seafront footpath.
The National Archaeological Maritime Museum: This small museum displays significant findings in Caorle and neighboring sites, dating from the recent Bronze Age to the modern era. You can discover how Caorle was born and then transformed into the small town we know today. It's a journey through protohistory, the Roman era, and the Republic of Venice arriving at a major holiday destination of the 20th and 21st centuries.
One thing you should definitely do if you ever come to Caorle, is to walk what's called Il Sentiero dei casoni, the Thatched house's path. It's a trail following the Lagoon-like Canale Nicesolo. Along the walk, you will come very close to the old fishing huts with their characteristic thatched roofs. In some of them, they even let you come inside. Ernest Hemingway stayed here during some of his fishing and hunting excursions.
… Still, to me, the best way to spend an evening in Caorle, is to just walk along the narrow streets, without a goal… Losing yourself. Then have a drink at one of the many bars, eat a few chichetti, an ice cream, and enjoy the warm summer breeze, at the pier.
What to Eat in Caorle
One very nice characteristic of the small town is its gastronomy. The position right on the sea with fresh fish coming in every day, and the rich agriculture landscape, guarantees first-class ingredients. That combined with the excellent cooking traditions makes Caorle a perfect site for trying out new dishes, and reinventions of your old favorites. Caorle suffers much less of an overly touristic atmosphere than Venice, but you should still take care of where you go.
A good tip is to go for one of the many eateries that serve Frittura mista. Various types of (small) fish, deep-fried, and served on a piece of paper. With a nice Prosecco, that is as close to heaven as you can get here down on Earth.
If you would like to try out the local dishes, try Broeto Caorlotto (brodetto – soup, kind of) a fish stew with all kinds of fresh fish.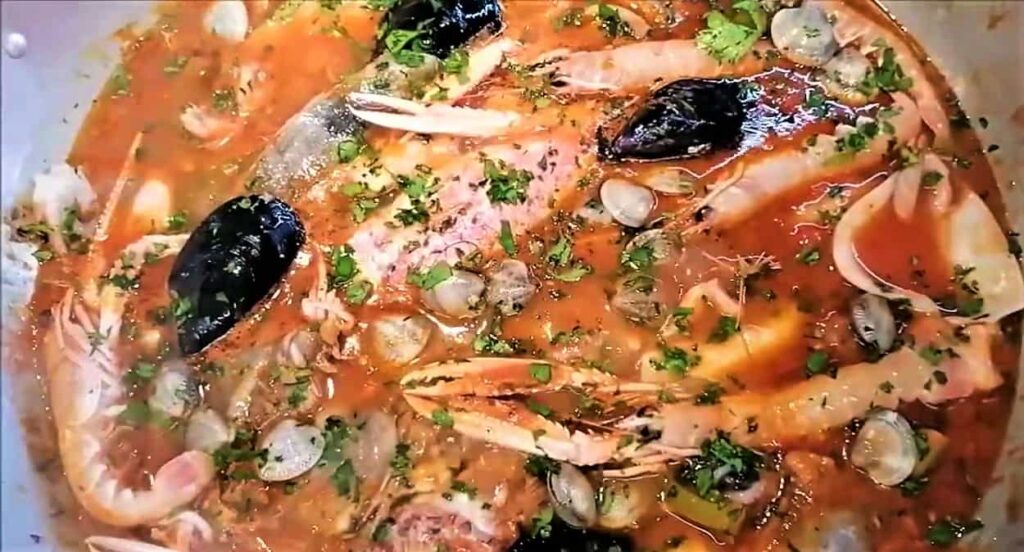 Where to Stay in Caorle
Caorle has every kind of accommodation option for any type of budget or preference. Maybe because of Caorle's somewhat laid-back style, there are loads of apartments and B&Bs of a private sort. These can be very convenient if you like to manage your own day in your own way. The possibility to cook attracts some people, especially if you'd like to get up early and head over to the fish market. And even if you're not a cook, it is still an adventure to watch all the goodies fresh from the Sea on display. It closes at 11.30 am.
You can choose from hotels, apartments, campsites, or Farm stays. Here are a few of my own inside suggestions. All these links are affiliate links. That means that when you book, we get a small commission, at no increased cost to you. A way to support us without actually paying anything.
Hotels
AQA Palace. It's an elegant 4-star hotel with every service and amenity possible. 600 meters to the center, and 1 km to the beach. Situated in a very calm neighborhood is it a prime choice for a relaxing vacation. Prices should be decent. The hotel has its own beach with a free shuttle. Indoor and outdoor pool.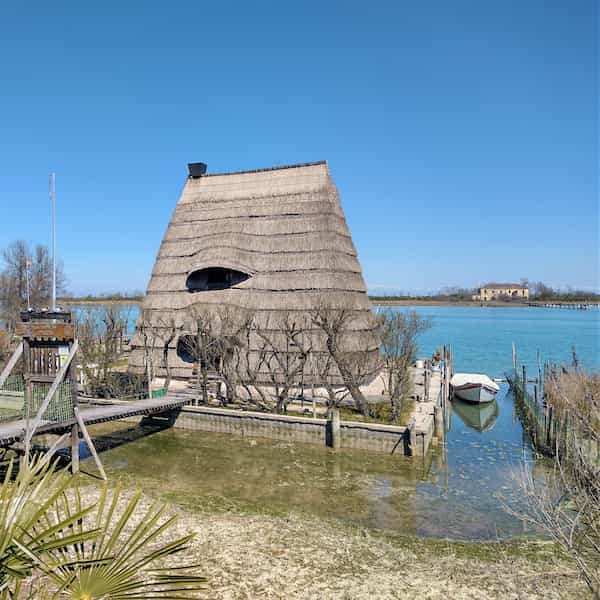 Check if AQA Palace is available
Hotel Elite. Another very good 4-star hotel situated directly on the seafront, a bit further to the west. They have a private beach, free bicycles, an indoor pool, and a beautiful wellness/jacuzzi on the rooftop.
Check if Hotel Elite is available
Hotel Le Lampare. This is a nice quality 3-star hotel right on the waterfront with a terrace where you can watch the fading day over a Spritz. Private parking and a private beach. 2 minute walk to the Cathedral and the Bell Tower.
Check if Hotel Le Lampare is available
Hotel Rosa Caorle. If you're on a tight budget, check out this friendly 2-star hotel. A bit dated but functional, clean, and in very good working order. All rooms have a balcony or terrace. Hotel Rosa offers free parking and a private beach area.
Check if Hotel Rosa Caorle is available
MAR60 Apartments. If you want your own place with cooking possibilities, then this Residence is for you. On the western side of the old town. Very nice with every facility. Privat beach. No free parking if you come by car.
Check if MAR60 Apartments is available
Finally, if you want something different and spectacular, try this: You cannot stay overnight in any of the famous Casoni, the thatched houses. But there is a way you can somehow experience something like that but with all the modern commodities. Casanova Resort offers six newly constructed huts inspired by the old Casoni. Each unit has two bedrooms, a living room, a kitchenette, and a bathroom. The surroundings are completely off-grid, submerged in nature, and actually inside the lagoon. It's not within walking distance to Caorle, it's actually on the other side of the canal, and a good half-hour drive… Still, I thought I should mention it, as it's a spectacular way to experience something the real nature of this part of the world. And btw, this is not an affiliate link. Casanovaresort
How to Get to Caorle
By Air.
The nearest airport is Venice Marco Polo Airport (VCE), which is about 55 km away from Caorle. From there your best bet is the ATVO busses. Just approach the big ATVO counter at the airport, and they'll tell you where and how to arrive safely in Caorle.
By Car.
You take the A4 motorway (Torino-Trieste) and exit at San Stino di Livenza or, some 25 miles after Venice going east. Then follow the signs for Caorle along the SP59 road.
By train or from Venice.
Just as when going from the Airport, the bus company to use is ATVO. Their website is a bit confusing, but try to dive in anyway. Alternatively, there is one ticket office at Piazzale Roma, and an ATVO ticket office right here close to the train station in Mestre.