Venice and the Venetian Pizza culture.
So, I'm going to tell you where to go if you'd like to pick up a good Venice Pizza. That could sound like an easy task, but it's not. And that's not because the Venetians couldn't make a good pizza or because they don't have the right ingredients, or because they're not enough Neapolitan, or for some other hidden reason.
I am often… Too often, being asked where to go to eat a good pizza in Venice. Or where they have the best pizza. My answer is always: Nowhere! There's nowhere in Venice where they serve good pizza. Then I go on with the argument that, if you're in Venice, you shouldn't even try to have a good pizza. In Venice there are so many other delicious things to taste, that going for the usual, and somewhat boring pizza is a waste of money, time, and resources.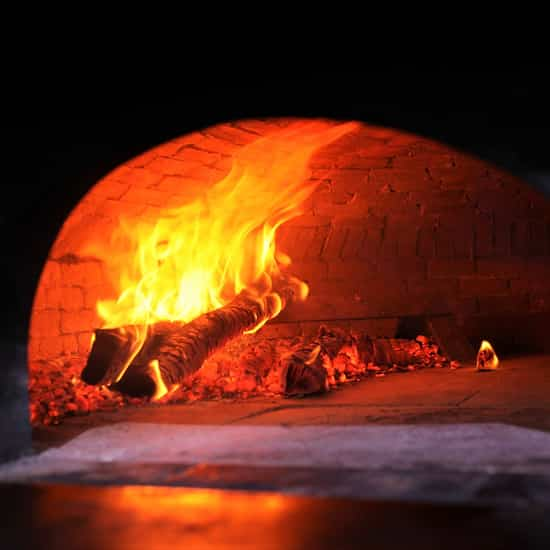 The connection between wood and pizza.
Real pizza is made in a wood-heated brick oven. The perfect flavor can not be obtained by anything else. The logs burn with an irregular heat transmission, and the pizzaiolo should not only be good at preparing the dough, choosing the ingredients, and baking it the right amount of time and in the right manner… He should also be an expert in how to keep the correct temperature by only putting on more wood in a balanced way and then organizing the burning logs inside the oven and keeping the pizza at a precise distance from the fire. That is a task for someone who is not only an expert pizzaiolo but also a true artist.
The problem with Pizza in Venice is that there are no wood-heated brick ovens. At least there shouldn't be any. And the reason is the fire hazard. It's simply not allowed to cook with blazing open fires in the historical center of Venice.
Like most things in Venice, rules are there to be bent. And it is still possible to find a real, wood-heated stone oven cooked pizza with real, black, carbonated dots on the crust if you know where to look.
The electric oven…
But, the electric oven isn't a momentum in the time-lapse, it's not stationary in its development.
New models come out every year, and the pizza cooking business is huge, and I mean huge like really enormous. In that context, it's not hard to imagine that the professional electric ovens of today are better than yesterdays. The difference between a pizza baked in a brick oven and one baked in an electric oven is diminishing and it will probably soon come to a point where we cannot distinguish one from the other anymore.
And then we have the tourist trap problem.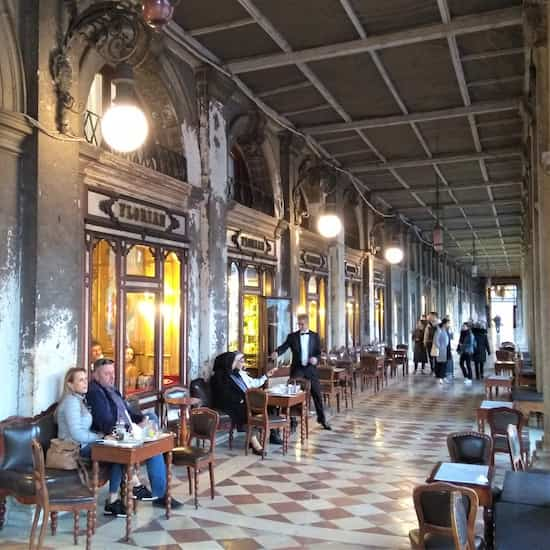 In any city with a steady tourist flow, people will try to take advantage. From pick-pockets to abusive parking lots, from fake branded bags to awful meals and drinks with a ridiculous price tag.
Many years ago, I had a pizza at what looked like a pizzeria, with the sign "Pizzeria" over the door. They served me a micro-oven heated deep-frozen supermarket thingy on a too-small plate. In Venice, you just can't just walk into any restaurant and think that it can't be all that bad… Because it can.
You have to ask around, even if who you ask, is just the barman or the guy at the hotel. It's still much better than just choosing randomly.
So, to the list of where to grab the best Venice Pizza.
Ae Oche, or Ae Oke (By the geese or At the geese's), has now changed its label to just Oke – Zattere, halfway between San Basilio and Rio De San Trovaso
There are two more Oke-Pizzerias in Venice, but this one is the best and has the nicest outdoor view. They serve an excellent pizza made with organic ingredients. They can also make it with whole wheat flour or Kamut. The traditional beverage to pizza in Italy is beer, and Oke has a wide selection of local beers. They also have a full menu if anybody in the company isn't into pizza. Not very traditionally Venetian cuisine but still decent.
A very cool feature is that their outdoor tables are right there on the quay of Zattere, overlooking Giudecca and Molino Stucky. In summer, if you want a table close to the water, you should book ahead.
With their roots in southern Italy, Birraria La Corte serves a good, traditional pizza, made with superb ingredients, and expert handling.
They have a small internal courtyard, and tables in the square. The non-pizza-menu is reasonably local with some good examples of Venetian dishes. And the beers are awesome. After all, it's a "birreria" (birraria in Venetian), a beer house.
6342 A Le Tole – Barbaria de le Tole nr. 6342 (Thus the name…), a few steps from Basilica dei Santi Giovanni e Paolo, and the hospital.
They opened up a few years ago, but have already had a deserving success. The smaller and more rustic … A Le Tole is managed together with the closeby, and somewhat more classy 6342 Alla Corte. The latter is a full-blown restaurant, but it's at the former you get the fabulous pizza. For the non-pizza eaters, there's a choice of fresh pasta dishes which are definitely out of the ordinary.
Unfortunately, there's no outdoor space, and the rather limited space inside can be a drawback. Especially in summer, and even more so now, in these Pandemic-times.
This is a classic, old, and traditional eatery in the west Castello, not too far from Arsenale. The area is pretty crowded with restaurants, and Al Vecio Portal wouldn't stand out in any significant way if it wasn't for the pizzas. It's labeled "Trattoria", but the reason to stop by should not be the normal menu, even though they make decent pasta and local Venetian dishes. It's the pizza that is much better than anything else nearby. Like most good restaurants, it can be very crowded in the high season.
They also have a very nice internal garden, as well as tables out front.
Pizzeria with a real wood-heated brick oven.
The TEN Group is a brand new chain of restaurants, bakeries, and beer houses mostly in northern Italy. The TEN-Venezia was opened a few years before the brand was founded but under a different label, with a newly designed interior in a modern, open style. It has a large open bar island and a wonderful rooftop outdoor balcony.
Being a group with possibly better resources than a single pizzeria, they have obtained the license to cook with open fire. So it's one of the very few places in Venice where you can actually dig in on a real open-fire baked pizza.
They also have a good selection of other dishes, as well as a full drink list.
The location is a bit out of the way, off the main tourist routes. That could be an advantage as it possibly lets you in even at peak hours.
Take away pizza
The Megaone, or ME.GA.One is located on a small side street right at the eastern foot of the Rialto bridge. It serves wonderful Napolean pizzas for takeaway only. The owner, Giuseppe, is actually a southerner and that guarantees the quality as well as the casual, friendly atmosphere inside the very small establishment. The pizzas are the typical Napoleon style, with a little higher and fuller crust. You can have a slice or you can wait a few minutes and get your own freshly baked pizza.
In the big square of Campo Sant Margherita, where the students gather, there is another small shop… Pizza al Volo. They make great pizzas in slices or ordered and baked as you wish.
This place is very popular among younger people, students and not. And Santa Margherita is less touristic compared to Rialto, San Marco, and Castello so the prices are lower. If you're on a budget, you should definitely save this location on your mobile.
Final words…
I wrote this article because so many ask me about pizza. For some reason, Italian food sometimes seems to consist of pizza… period.
But I'm still convinced that if you come to Venice, you shouldn't bother. The pizza, although the tips I've given here are valid, can't compare with a good plate of Schie, Moeche, or the common Baccalà Mantecato… Or with Bigoli in Salsa, or served with a delicious duck-ragù.
Bacari and cicchetterie.
The best way of all to satisfy your hunger is to set off on a Bacaro-tour, organized, or by yourself. Just walk around, look at the various dishes under the glass at the bar, and choose anything you desire. That's the cheapest and the tastiest way to explore Venetian cuisine. It's also reasonably secure from a scam point of view. Normally they cook and sell everything by the day. And you, yourself can validate what you buy just by observing it, and the prices are normally standardized, sometimes even with price-tags… Which shouldn't stop you from asking before you start.
… And if you want really good pizza, you should leave Venice altogether, and go to the mainland. In Mestre, Marghera, Chirignago, Zelarino, or Spinea you definitely can get a much better pizza, but that's for another article.