Here are 18 tips for Venice, some things to absolutely try, and some things to avoid. What to expect and what to plan ahead. Here we go…
1. First of all: Skip Summer.

I know that most people have their holidays in summer. The children are free from school. Many industries and offices close in July or August and the employees are sent off on holiday. That's perfect for going to the beach or even going hiking in the mountains…
But big cities are not at their best in summer. And of all the cities in Europe, Venice is kind of one of the worst. In summer crowds are infinite, in summer the tourist invasion makes it hard even to move around. Most of all, the heat is tough. The humid ground, the wet canals, and the whole Po-valley makes the temperatures in Venice like in the jungle. As soon as you move, you sweat.
One of the very best tips for Venice is to avoid the hot season. if you have any possibility to choose when to come, choose September… Or April. Even November is better. It's cold but if you dress right, it's perfectly bearable. As are March and May, even the beginning of June… But try to avoid July and August, if you can.
2. Another of the best tips for Venice is to choose where to stay.
There are tons of hotels in Venice. There are loads of apartments for rent and B&B's and other possibilities to find nice accommodation. But you should plan ahead.
First: You will probably have to carry your own baggage. That means that, unless you don't mind a little exercise, you should book something that is close to the Vaporetto-stop or accessible by taxi. Check google maps and see if there are bridges. Carry a trolley along the narrow streets is bad, but having to carry it over a major bridge is much worse.
There are porters you can hire to help you (just agree about the price before), and the taxi can get fairly close to most locations.
Second: Do you want to stay in the center of Venice or on the outskirts? On Lido or Murano, Burano? …Or even the mainland, Mestre or Marghera? In Venice, you're never really far away from where you want to go. The attractions are all over and it's a small city. You cross it from one end to the other in 45  minutes on foot.
Here are some additional tips.
3. Try to see Venice from the water.
When I first came here, a dear friend of mine took me on a short ride on his boat.  I was breathless. Because Venice was built at a time when water was the glue to build nations as well as cities. And Venice was built right on top of it.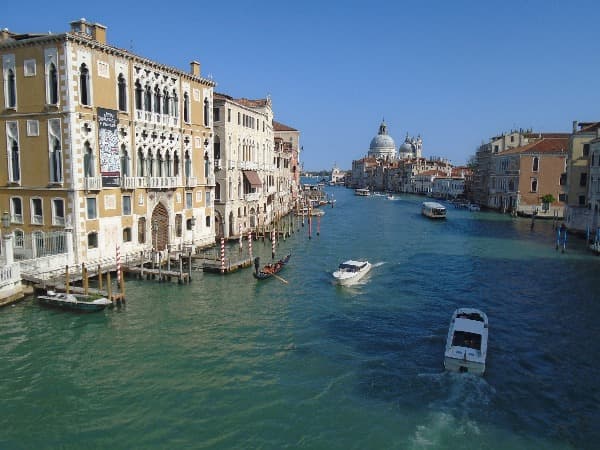 In the beginning, it was islands separated from each other with water. Later the structure became more of an urban center, but always with the canals as the streets. The facades always face the canal-side. The gardens open to the water, and the main entrance was always the private dock. The land-side, the entrance from the Calle, was always a service entrance and no gardens face the backstreet.
To see Venice from the water can be tricky though. Take a Gondola, Take a Taxi or get to know someone with a boat, as I did. Or just ride the Vaporetto. If you would like to spend more time in a gondola than 30 minutes, book a Voga Veneta-lesson. Or you can go for a tour in a rented Kayak. Then there are all the private tour companies.
If you're on a tight budget, just look at the city from the middle of the bridges.
4. Use a guide to tell you the secrets of the city… But book a local one.
Within the EU anybody with a determined exam working as a professional in a certain field can offer their services in that field all over Europe. That goes for dentists as for tourist guides. This means that a qualified tourist guide who used to guide people in Berlin or in Nantes can work as a tourist guide in Venice.
It's obvious that if you come to Venice, you would like to hear about the city from someone who knows something about it. A French guide or a German guide can be very skilled, but I would still recommend someone who's from Venice.
Check with the tour guide agency, before you book.
Or simply use these guys. They're free, that is you give what you feel it was worth at the end. No questions asked.
5. Use the skip the line ticket for the Basilica and the Secret Itineraries Tour for the Doges Palace.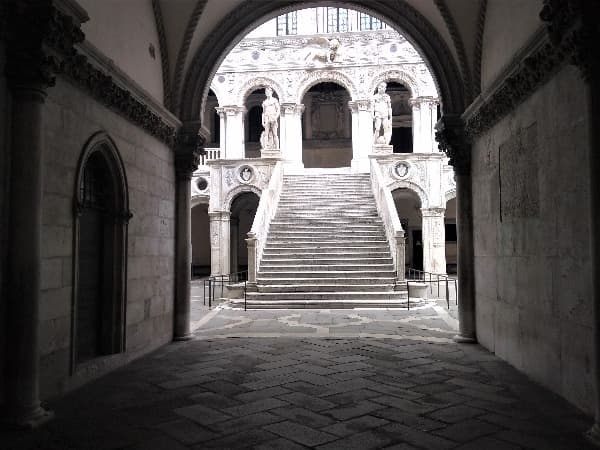 In summer, but also in spring and autumn, the lines to the main attractions can be very long. It's not enjoyable to enter the dark Basilica after having spent an hour and a half outside in the line under a merciless sun. Fortunately, there is an alternative.
For 3 euro you can book a skip the line ticket and just walk right in. Before you walk up to the entrance, leave your bags at the luggage deposit. You can't take anything inside the Basilica of Saint Mark's. The luggage deposit is completely free.
You can also book the Bell Tower with a skip the line.
To see the Doge's Palace in all it's splendor and even visit some of the hidden corners, the cell of Casanova f. ex. from where he escaped right in front of the Doge, all the politicians and the whole noble top layer of Venice, the best alternative is to book the Secret Itineraries Tour. And that way you skip the line here too. The normal entrance fee is included, so you can stay as long as you like after the tour.
6. Plan your transport… And plan your stay.
In Venice, there are no streets (… right). You will be walking a lot. Walking is the normal transportation for the Venetians. It's free and it's at least as fast as public transport. Only if you need to move out from the center, the Vaporetto can be convenient. Still, after having walked the whole day, and having had your lunch, and coffee standing up, it can be nice to have the possibility to sneak on a Vaporetto and sit your way back to the hotel.
For the tourists, Vaporetto is expensive, and there are a whole lot of options, one way, 24 hours, 48 hours, airport shuttle + Vaporetto, etc. You should take your time to plan this. If you stay for 4 days, maybe one of those you'll be going to the islands, and so a 1-day pass would be good. 24h costs 20 euro. But 48h costs 30 and that's only 10 euro more. You have to plan when to use it and when not. A single fare is 7:50. Check out this link for prices 
And here's a thorough explanation of the public transport system in Venice.
All the museums and attractions you want to visit, they all have discounts in all kinds of ways. The Venezia Unica City Pass is one way to get more for less. It lets you personalize a card with more or less what you want on it… Water bus, museum fees, parking, theater tickets. It will take you some time you work it out, and it's not for those who want to live the day as it comes. But it can save you some money.
7. Tips for Venice – Don't pay more than you have to.
Venice is invaded by tourists, and with the commerce and all the profit to be made comes the tail of shadow-services. Often you book something through an agency, through the concierge, through online services. And very often these services cost a lot of money.
An example: Grabbing a Gondola from the Gondola-station costs 80 euro for 30 minutes daytime, standard tariff. Booking the same Gondola online for 30 minutes can cost as much as 200 euro. The water taxi from the airport costs 120 euro to Venice. Booking the same taxi online can be as much as 300. They'll give you a glass of Prosecco and the driver is more cheerfull (… I'd be too at a price like that), but that's all. It's still a taxi.
So check prices. And use official booking systems rather than agencies and hotels. Here's a link on how to get to Venice from the airport.
8. Tips for Venice – Use water from the fountains.
In Venice, there are fountains every now and then in the Campi. These are always open and water is running from them. This water is normal tap water. Absolutely safe to drink.
A few years ago the philosopher and professor Massimo Cacciari, at that time Major of Venice, made a publicity campaign for the benefits of drinking tap water instead of bottled water. Since then, normal drinking water sometimes goes under the name of "the Majors water".
Anyway… If you want to save some change on water, bring an empty bottle and fill it every time you pass a fountain. Or skip water altogether, and drink wine. To the old Venetians, water was a deadly poison, full of bacterias and diseases. Wine, on the other hand, was clean as it contains alcohol.
9. Use the toilets at the bar.
Public toilets in Venice are few and expensive. They're clean and functional, but far apart. If you're at the museum or visiting some palace or the Opera house, use their bathrooms. But very often you find yourself walking around and you have to go. Obviously there are no public toilets in the neighborhood, so what do you do?
You do what the locals do. Walk into the nearest bar, salute the bar-man, comment on the beautiful painting on the wall, ask if they have a toilet (They should but in Venice every square meter costs a fortune and sometimes you prefer to use your space to a more profitable activity.), order a caffè or a spritz, and use the bathroom.
10. Tips for Venice, and all the rest of Italy – Talk.
In Italy as a general rule, you have to be heard, The Italians are a speaking people. They have more words than almost every other language and they put pride in using them. It's fascinating to see two people who just smashed into one another on the street, and instead of fighting with their fists, they discuss. They're still very angry but the arguments are as colorful and in-depth as if it was a discussion in parliament.
So, you have to talk to be reckoned with. If you go into a shop, salute the owner and ask if you're in the right place. Then ask who's last in line. Do that and you will be served with a smile when it's your turn.
Entering the coffee shop, use the few courtesy phrases you've learned and try to change at least one or two words with the man behind the bar. Do not just order coffee, it's regarded as rude.
… Even though, as a tourist, you get away with it.
11. Skip the pizza and eat like a local.
I don't know how often I get the question: Can you recommend a good Pizzeria in Venice?
No, I can't. And the reason is that there are none. Pizza is a wonderful invention and I like it a lot. Very often we go out together, friends, colleagues and we eat pizza. But we usually go to Mestre, Marghera, Spinea or somewhere else on the mainland. In Venice, you can't find a good Pizza. That's just the way it is.
But why should you insist on a pizza, when there are so many dishes, so many goodies that you won't find elsewhere?
To start with, eat Cicchetti. That's a very typical thing in Venice. You walk into a Cicchetteria, or a Bacaro, a kind of bar. There you have all kinds of treats on display behind the bar glass counter. Every piece has its own price. You order that one, this one and that one over there. A glass of wine and you sit down, or you stay on your feet right there. Then you fill up with another one of these, a taste of that one until you're good. Or you step out and walk over to the other Bacaro next door and continue. It's a very flexible, flavorful and, compared to sitting down at a restaurant, cheap way to experience the Venetian cuisine.
Then you have the real bars where you eat a Panino or three, four Tramezzini. These are wonderful small sandwich-like bread rolls filled with anything you like.
Then you have the normal restaurants, trattorie, osterie, and other sitting-down-and-being-served institutions. But on the menu you'll have a lot of dishes you will not find anywhere else:
Bacalà, air-dried cod, soaked in water and then cooked in various different ways, according to tradition.
Sarde in Saor, sardines in vinegar with onions, raisins and pine seeds.
Bigoli in salsa, A special kind of spaghetti type pasta. Served with a sauce of onions and anchovies.
Spaghetti with cuttlefish.
… And many, many others. The local food in Venice is actually so good that you will not miss even the best Pizzas, not one bit.
12. Discover the outskirts.
When Venice started out it was more like an archipelago than the fish-form it is today. The different islands weren't connected and people had to go by boat to move from one part to the other. That's the origin of the six Sestieri of Venice. This means that although the city is small, the different areas all have their own history, their own traditions, and their own monuments, palaces, and churches. So when you're tired of the lines and the crowds around Saint Mark's, walk over to Giudecca, to Giardini, Sant Elena, to Zattere and Dorsoduro. Here you'll find an equally interesting history, many historical buildings and much, I will repeat that… Much less people.
13. Discover the islands in the lagoon.
… And then you have to see the islands. Of course, the closest, Giudecca, just a bus stop away. Lido, where you can spend an afternoon working on your tan if you're in Venice in summer. The islands within Venice, San Giorgio Maggiore, San Pietro di Castello, San Michele, the churchyard. San Servolo, La Certosa, very close to Venice… Murano further away and Burano and Torcello an hour with the Vaporetto.
Because another thing that's unique with Venice is the surroundings, the lagoon. As stated, when it was created, when Venice was founded, it wasn't really a city. It was many small settlements that collaborated and tried to survive the attacks from enemies both from land and from the sea. So the many islands have a history almost as interesting and curious as that of Venice. Some you can go to with the Vaporetto, some you need an organized tour, and then again some are off-limit… Suspended and prohibited. So dangerous are they, and so scary and horrifying to visit, that no one should go there, ever.
Like Poveglia… The most haunted place in the world.
14. Tips for Venice – Ride a Gondola. 
But is it really worth it? Yes, it is, absolutely.
But it's so expensive…? Well, think about what you pay for a dinner at the fancy restaurant, or the guided boat trip, or the entrance fee to the museums. A 30 minutes trip with a Gondola costs 80 euro, no more no less. If you're six that's less than 14 euro per person. It's not all that much.
Here is all the information you need.
15. Take the opportunity to have the most expensive coffee in the world.
At Florian at Saint Mark's Square a coffee, an expresso, sitting down at a table costs 12:50. The coffee is 6:50 with service at the table (It's 3 euro at the bar…) and the music fee is 6 euro. That has to be some sort of record. Caffè Florian is awesome, and it's the oldest Caffè in Italy (some say, in the world…). The blend is their own, the music and service is top class and the view is miraculous, but it's still kind of on the steep side.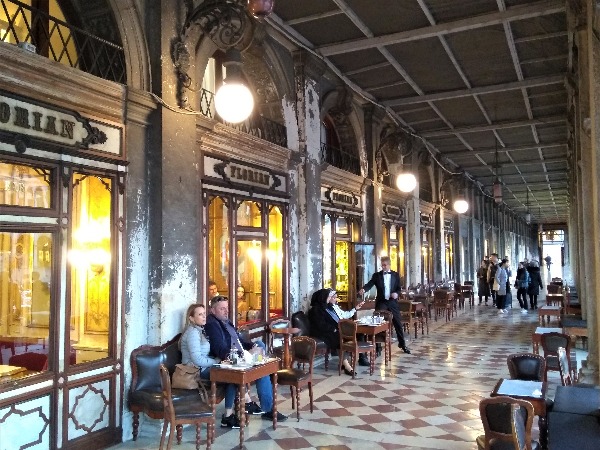 There are alternatives though. The caffès on the opposite side has a lower coffee price but they're more expensive if you eat and drink more than just a little snack.  The bar next door to Florian, Aurora, is cheaper. The coffee at the bar costs 1:50.
Any way you look at it, if you're just after a good cup of coffee, stay away from Saint Mark's Square. A normal tip from Venetians to the tourists is, stay away from Saint Mark's Square for any type of purchase. Here's a list of the best caffès in Venice. 
16. Tips for Venice – Dress right.
First of all: The shoes. You might think that being in Italy you have to wear trendy, cool fashion-clothes. That could be right in other cities, but in Venice, you need comfortable shoes. As said before, you will be walking a lot, and I mean a lot. There's nothing as bad for an adventurous soul as sore feet.
Then you need to be covered for the churches. No bare shoulders, no bare knees, no bare upper body for you guys, and preferably no tank tops. No sports socks with shorts, and never ever with sandals. Here's a link to not look too much like a tourist who just came off the flight.
In summer, cover your head. Walking around, looking at palaces and buildings, canals and waterfronts can make you forget that you're in a sunny place. I don't know how many times I've rescued people from the sun, people who risked getting sunstroke. And use sun protection.
In winter, wear waterproof shoes. The problem isn't so much the high water as the rain and the many puddles forming on the ground that isn't at all flat.
17. Don't worry too much about the high waters.
Autumn is the period of Acqua alta, the high waters. And November is the worst. But it's not a big problem, really. Let me explain.
The tide comes in and it goes out again, and the high tides in Venice e are just that… Tides. So if you have water all over, know that it's for a relatively short period. After a few hours, it dries up again.
And it's a very rare phenomenon, even if it occurs more frequently every year. The last year, 2018, there were tides over 100cm on 18 occasions. And 100 cm is roughly where the problems start. At 100cm you need rubber boots or at least waterproof shoes. Of the 18 occasions, four happened in October and five in November. None in September and none in December. Every time it lasts for. let's say, 3 hours. Some happened in the morning, others even at midnight, when you probably are sleeping anyway.
This is to make you understand that high water in Venice isn't an issue. Just take it with a smile, go down to the local bar, sit down, order a tramezzino and a spritz and take some photos of the water inside the bar and the people in rubber boots.
18. Keep to the right in the small, narrow alleys, and walk in a row.
There's nothing that irritates the locals more than a group of tourists blocking the street. We are all generally welcoming and positive to visitors, but not if we meet a group of tourists who don't understand that people need to come through. There are people working here and people who need to be on time for picking up their kids at school, or to a meeting or a lecture at the university. And they need to be able to get through.
So always when you move around, leave a little space in the middle for those who need to overtake. Keep right and walk in a row if the alley is really narrow… And the Venetians will all be happy, nice and generous.
… And take off your backpack on busses and Vaporettos.
Now you've gotten my best tips for Venice and you know exactly what to expect. You know how to get the most out of your visit to the most beautiful city in the world… That's my opinion, but I'm bias. So, now that you're prepared in the best way possible, what are you waiting for?
tips for Venice        tips for Venice           tips for Venice          tips for Venice