Venice Hotels
This page contains affiliate links to Venice Hotels. Though there's no additional cost for you, we may receive a commission for purchases made through these links.
Finding a hotel in Venice can be a tricky task. Well, not finding a hotel because there are thousands of them in the floating city. And there are accommodations for every wallet. The trickiness is all about finding a good hotel, one that doesn't cost more than it's worth, one where they don't treat you like a wandering money purse and one that's clean and where you feel at home or if not at home so at least appreciated.
I didn't really want to write this article because there are already so many blogs out there about hotels and accommodation. Why write another one?
Well, the answer is that a few people asked me. And I figure that maybe, just maybe I could add something to the many good websites that already cover this. I still live here, and that could be worth something. I still have an insiders look on where to stay.
Having said that, it's obvious that I haven't stayed in the hotels. Why should I? I already have my house here. But all the information here is primarily from traveling friends and colleagues. Then from my acquaintances inside the tourist business and last but not least from local forums, socials, and plain gossip. So down to business… My own list of awesome hotels and B&Bs in and around Venice.
One more thing: When I talk about central, close to the center and more in that context, know that in Venice the attractions are spread all over. If you're close to something, you're far away from something else. Central means Saint Mark's Square, nothing else.
I don't pretend to be able to cover all of Venice. There are more than 50.00 tourist beds in Venice. But I can guarantee that none of the structures I mention here will leave you with a bad taste. They're all good. The list will be updated regularly.
B&B:s and Guesthouses
Venice Hotels 1. Polo's Treasures
Polo's Treasures is a very small Apart-Hotel behind Rialto. That is, it has only 4 units. 1 double room and 3 apartments. And it doesn't have a full-time reception and a lot of other things that a regular hotel has. Outside it's just a door with a telephone number but inside it's a cool, tranquil place with a lot of charm. It's clean and it's in a very good position. You're right in the middle of Venice, yet the location is silent, on a backstreet where there are very few people passing through.
The buzzing Grand Canal is just an arm's length away and the Rialto area with the fish market and the bridge about 100-200 meters.
The apartments, as well as the double room, are refurbished in a stylish manner, letting the old building shine through the modern outlook here and there. The result is a simple but classy style. Venice and technology, old and new. More new than old. Fully airconditioned, free wifi and every other kind of comfort is offered.
One thing to be aware of is the fact that there's no lift, just like many of the old palaces. If you have heavy luggage you'll have to carry it up the small and rather steep stairs. And as I said before, it's not a hotel so there's no 24-hour reception. Something that possibly makes the price a little lower than a comparable hotel… And there's no breakfast if you stay in the double room. But 2 minutes away you have Rialto, with the markets and hundreds of bars to solve that problem. The apartments come with a fully equipped kitchen.
It's a classy way to experience Venice in your own time and space without spending too much. The manager is very helpful, although not present at all times, you can always reach him on the phone. It's regarded as apartments, so there are no classifying stars.
Closest Vaporetto stop is Rialto Mercato, it's a 250-meter walk and there's one bridge. With a Taxi, on the other hand, you can get very close from Canal Grande.
Venice Hotels 2. Ca dei Dogi
If you want to stay even more in the center (…close to Saint Mark's) then Ca dei Dogi is a good choice. This too isn't a real hotel but a pension – Guesthouse. It's situated right behind the Doge's palace and with Riva degli Schiavoni just 30 seconds away. It's small but very charming and not having the hotel stars could make it a bit cheaper than a real hotel with the same standards. It's still at the middle-low end of our hotel list. 5 double rooms, 1 single and 4 apartments for those who want to be more self-sufficient.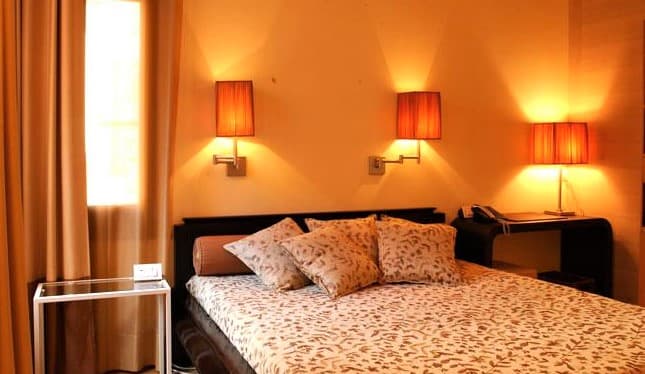 The palace is from the 15th century and it's actually so close to the prison from where Casanova escaped in 1755 that you can almost touch it. Some of the units have a balcony, especially the top floor apartment that has a panorama terrace. Every unit is different from the other, clean and freshly decorated. Not the traditional Venice style but innovative and modern with some interesting decorative details. It's clean and well managed.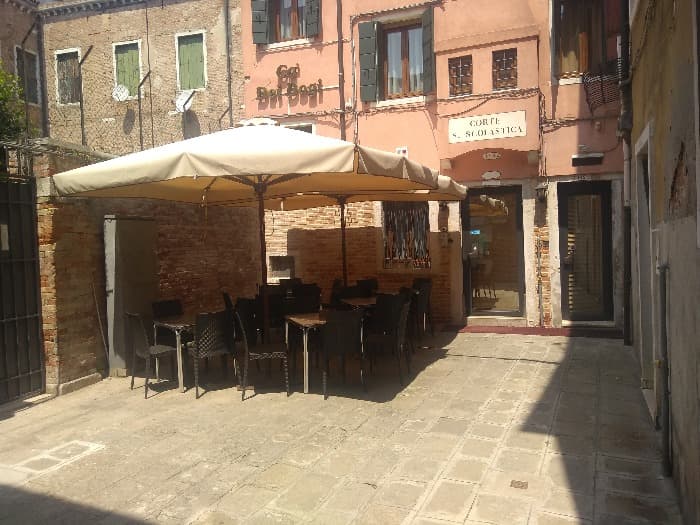 The pension offers standard service, free wifi, airconditioning, and 24-hour front desk. Right in front of the entrance, there's a beautiful little patio where you can enjoy your morning coffee. They also have a restaurant in the same house but with a separate entrance, Taverna dei Dogi. Please try it out, but I don't know it sufficiently to be able to recommend it.
The management of Ca dei Dogi is known to be helpful, and knowledgeable of the city and the neighborhood. For the cost of a budget hotel, you'll get to stay in the dead center of the city. Walk down the Calle and you'll see the bridge of sighs from the backside. Closest Vaporetto station is San Zaccaria. From there it's 100 meters without bridges. Same for the Taxi.
3-star hotels
Venice Hotels 3. Hotel Firenze
Also in the very center of Venice but on the other side of the Square lies the 3-star Hotel Firenze. You won't see it if you don't know where to look.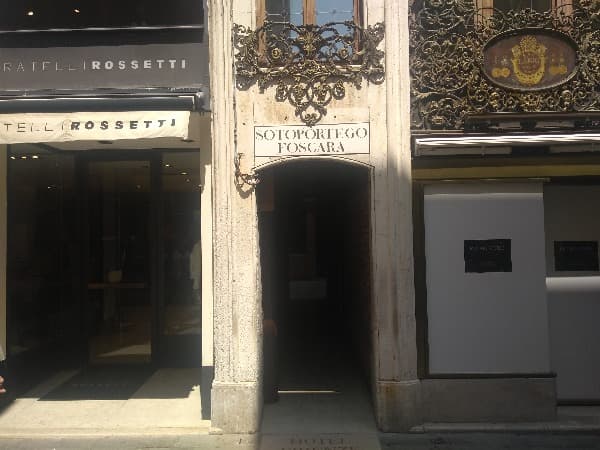 A few steps from the western arcades of Saint Mark's Square you find the small and narrow doorway called Sotoportego Foscara right next to Fratelli Rossetti. The gallery leads to a very small Campiello where the entrance to the hotel is. It's a hidden corner and it's a perfect location. You're in a super calm hidden spot but with one of the main Venetian shopping streets 10 meters away.
The palace is from the 16th century but it's fully modernized. The interior maintains the traditional Venetian style, marble floors, colored wood furniture, and colored walls. Not too heavy with light drapes and lamps from Murano-glass.
If you like imagining life in the 19th century then Venice is the place to go, and hotel Firenze will definitely strengthen that feeling. It has a very nice atmosphere. Some of the rooms have a balcony. There's a lift, even if it's small.
The management is known for its courtesy. The service is good, rooms are clean and the personnel is present and helpful. Another feature is the rooftop terrace. A wonderful Altana with a panoramic view of the floating city's roof tiles. Here you can enjoy a glass of Prosecco while enjoying the scenery.
No restaurant but you have a vast choice right outside the door. Central position. Closest Vaporetto stop is San Marco Vallaresso and from there it's a straight walk of 100 meters with no bridges. Same with Taxi.
Venice Hotels 4. Hotel Palazzo Vitturi
5 minutes further away but still very close to the center and all the main attractions you find Campo Santa Formosa. Here's the excellent 3-star Boutique Hotel Palazzo Vitturi. The Palace is from the 13th century and it has the classical Venetian-Byzantine architecture of that time. It's the oldest palace around the Campo.
It has been refurbished to the modern standard but much of the original details are still there. Some rooms have wooden ceilings from the original period and others even original frescoes.
It has 16 rooms from double to family. Everyone is different from the others as they all have their unique position and decoration. Remember that this is a medieval palace that has been transformed. And also remember that in buildings from the middle ages, there are no lifts. You have to carry your bag up the stairs. They don't have a restaurant but an excellent breakfast is served every day. There's a small bar and you can sit out on the balcony of the Noble floor and enjoy the view.
The structure has wifi, airconditioning, minibar, flat TV as well as all the rest. The neighborhood, the square outside, is calm and very charming. In front of the hotel, there's the Church of the Purification of Mary or Santa Maria Formosa as it's called by the Venetians. It's one of the oldest churches in Venice. Saint Mark's Square is 500 meters away, Rialto about the same. It's really a very good position if you want to discover more of Venice than just San Marco.
Staying at Palazzo Vitturi is a special way to experience Venice (Even the lack of a lift is in that line… You walk up the staitìrs.) It's like living in the past, but with modern attributes. You arrive after a 500-meter walk from Rialto over two bridges (sigh). Or you can take a taxi. There are small canals all around the square and if the tide isn't too low you should be able to get fairly close… No more than 60, 70 meters.
4-star hotels
Venice Hotels 5. H10 Palazzo Canova
An astonishing view, right next to the Rialto bridge with the Grand Canal right at your feet. That's Palazzo Canova for you. The 1800-Palace is refurbished from top to bottom and offers all standard 4-star attributes. The 61 rooms are all completely new and decorated in a very nice bright pastel tone from blue-ish to gold. It's lighter and sunnier than the more traditional darker colors. Still, you have the 19th-century touch all over. It's a cool place, opened in 2019.
The Spanish H10-hotel chain is well known and kind of specialized in 4-star hotels. That means that everything is up to 4-star. Even if this hotel actually is a 4-star superior. The feeling is, they know what they're doing. And that goes for service as well. No spots on the bathroom floor.
Some of the accommodations have interior views, while others have a Canal view. There's a difference in price so be sure to book the right room.
A small inside courtyard where you can enjoy your morning coffee. And there's a very handsome terrace facing the Canal Grande, where you can overlook the traffic on the famous waterway. There's a bar right there, but no restaurant inside the hotel. Step out on the street and you have a vast choice.
Closest Vaporetto stop is San Silvestro. From there it's 150 meters without bridges. The taxi can stop right in front of the hotel.
Venice Hotels 6. Ruzzini Palace Hotel
If you walk out the front door of Palazzo Vitturi at the three-star section and look at your right, you see a big white and impressive palace. That's the Ruzzini Palace or with its full name, Palazzo Loredan Ruzzini Priuli. The building is from the late 16th century and was built by Bartolomeo Manopola on behalf of the Ruzzini family. The Ruzzini was a numerous and important family in Venetian history. Carlo Ruzzini was Doge at the beginning of 1700.
This excellent 4-star hotel is, just like the case with many other historical hotels in Venice, a perfect location for those who want to relive the history. With 28 rooms of various standard classically decorated in an 18th-century style mixed with modern solutions, it offers all you
could ask of a top of the line 4-star hotel. Having said that, there's a great variety of accommodations. From the cramped and noisy room on the ground floor (stay away from that one…) to the suites of various dimensions on the first floor (2nd for you Americans), to the cozy top floor rooms with wooden beams in the ceiling. They're all in a handsome mix between modern and traditional Venetian. A lot of white, with often one contrasting color.
Not completely new but stylish, clean and with a historical foundation. Offers wifi, airconditioning, minibar, flat TV and all the rest. Lift on-site to help you with your bags.
Getting there is a 500-meters walk over two bridges. It can be tiresome if you're not in perfect shape or if you have a lot of luggage. On the other hand, the Taxi stops at the back of the hotel with a private entrance.
Venice Hotels 7. Hotel Ai Cavalieri di Venezia
A hundred meters northwest of Santa Maria Formosa lies this 4-star hotel in a classical Venetian style. 33 rooms in dark-ish colors, in various shades. Wall fabrics, heavy drapes, and marble in the bathroom make the space very heavy and traditional. Prestigious materials and Murano glass are everywhere. Some rooms have original frescos and original furniture.
The palace is from 1500 and it has all the original charm intact. A nice terrace with a bar and a few rooms with a balcony. A tiny private Campiello right outside the front door.
You choose what's right for your wallet and your needs. From the normal double room, which isn't very spacious up to the royal suite, a huge four-bed apartment on the first floor (second). The noble floor was always on the first (second) floor in ancient times. The best choice though, at least in my opinion, is the junior suite with a terrace on the top floor.
There's no restaurant but the sister-hotel within the HTH-group, Ai Reali has one. A spa with sauna, Turkish baths, and hydromassage is also available there for the guests of Ai Cavalieri. Although I wouldn't walk all the way there just to eat. It's almost at Saint Mark's Square. Going in the opposite direction, you have a much better chance of finding something genuine.
500 meters from Rialto Vaporetto stop over two or three bridges depending on the route. With a taxi, the hotel has its own landing stage.
Venice Hotels 8. Hotel Nani Mocenigo Palace
Also in the HTH-group, you have another wonderful Palace hotel in Nani Mocenigo Palace. It's right in front of the San Trovaso church, a few steps away from Ponte dell'Accademia. The location is 10 minutes away from Saint Mark's but close to Galleria dell'Accademia, Guggenheim and other sites.
The history of the Palace starts in the 15th century as a home to the Barbarino family (of which the most famous was Agostino, Doge of Venice 1486 – 1501). His daughter got it as a wedding present when marrying Giorgio Nani. Then at the beginning of 1800, the San Trovaso-Nani family went extinct and the Palace came in the hands of the Nani-Mocenigo, another branch of the Nani family. Thus the name.
30 rooms, all different in price and standard. The palace has two floors, both noble, the first floor (second) a little more so. If you want the canal view, you have to book the luxury suites. The others have street view.
Everything inside is the classic Venetian style, newly refurbished, luxurious and, soft. The heaviness has been
restrained with somewhat lighter colors. Original frescos, wooden ceilings, and Venetian marble floors. All conserved and restored as if they were museum pieces. In fact, the whole house is a museum.
4 stars really seem stingy as this is a full luxury experience. Air conditioning, satellite TV, free wifi… And an elevator as well as all the rest. There's a beautiful garden and a bar which also serves light meals. Outside ten meters to your right there's one of the few genuine Cantine, Al Bottegon. Here you can drink a glass of wine together with students, young lovers, and other tourists. Or you can buy some of the best wines in Venice.
Closest Vaporetto is Accademia or Zattere. From either one, it's 200 meters without bridges. The Taxi can stop right in front of the main entrance.
5-star hotels
Venice Hotels 9. Gritti Palace
There are quite a few luxury hotels in Venice. Some are really luxurious and awesome while others are more or less just expensive. One of the classiest, if not the most classy in a traditional, luxurious way is Gritty Palace. The name of the palace is Palazzo Pisani Gritti and it was constructed in the 15th century as a three-floor palace with the bottom floor at
canal-level as a service space and with two noble floors. The fourth floor was added in late 1800, also as a noble floor. So now it has three noble floors, which is something very unusual in Venice. Perfect though for a 5-star hotel, and as such it dates back to 1895. We're on classic ground here.
They have 82 rooms of all sizes and positions. Some have canal view which of course costs more.
The difference between Gritti and many other luxury hotels in Venice is that this is mostly authentic. Although everything looks perfect and some things are copies, there are a lot of originals… Paintings, furniture, wall fabrics, drapes, it can well be from the 19th century or even older. Every room has an inventory of the items. Most of the palace, rooms, halls, and leisure areas, breaths the late 19th century. Some rooms have a little older style. Lots of velvet and fabrics but not overly heavy.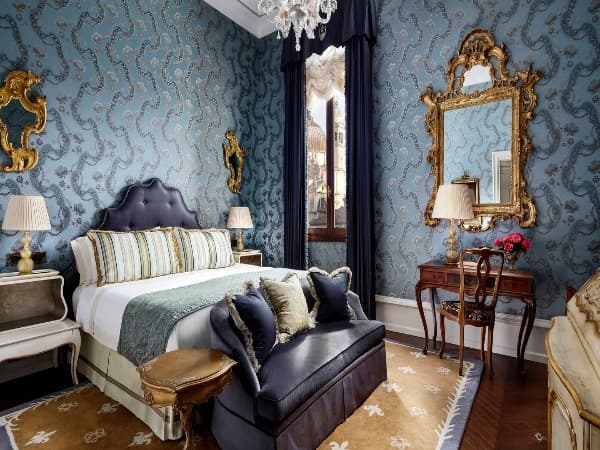 There are two fabulous terraces on the full length of the facade on the canal. One for night-drinks and the other for casual lunch and afternoon tea. Another big terrace on the roof for events. A restaurant and a bar as well as a kitchen for courses on the Venetian cooking. To sum it up there's a spa and a fitness center.
No need to go through the facilities, it's complete.
So is it worth it? Yes, it is. If you have a ridiculous lot of money you definitely get what you pay for. This is the original, the one the others try to match. Aren't there any downsides, except the cost?
Well, actually the total luxury in every detail together with the over a hundred years of Venetian history can make it a bit snobby. It can be hard to overlook the almost too perfect waiter as he doesn't move a muscle when you order the wrong wine to the sole. If you, like me, have a problem with that, try some of the other luxury hotels… One that doesn't have a century of local traditions in the ground.
This is the number one though, you can't beat that.
With Vaporetto, you get off at S. Maria del Giglio. From there it's 150 meters, no bridges. But you will probably come by Taxi or even in Gondola. Gritti has its own dock.
The outskirts
Away from the city center, you can sometimes find really cool places to stay. You have to weigh the pros and cons for a minute, but if you still want to try situations a bit further away from Saint Mark's then you have the possibility to experience something of the true Venice, the real, living city.
It is also possibly a little cheaper, although that's not always the case. Many of the 5-star hotels are dislocated.
Venice Hotels 10. Hotel Moresco
Maybe not really in the outskirts, it's a few hundred meters from Piazzale Roma walking towards Campo Santa Margherita. But we're 20 minutes from Saint Mark's Square. Still, you're close to busses and trains.
Hotel Moresco is a four-star jewel. It started out in 2010 and it has a little more… I wouldn't call it modern style, but the retrovision brings you back not to the 16th century, but maybe to the forties. All rooms are different from each other (… Like that was something new…) and they all have names from different professions and personalities. 23 rooms in total. Some have a canal view while others, most of them, overlook the gardens.
The junior suite is peculiar. It has the ceiling full of white beams in a strange geometrical pattern. It's like sleeping inside a Tim Burton-film.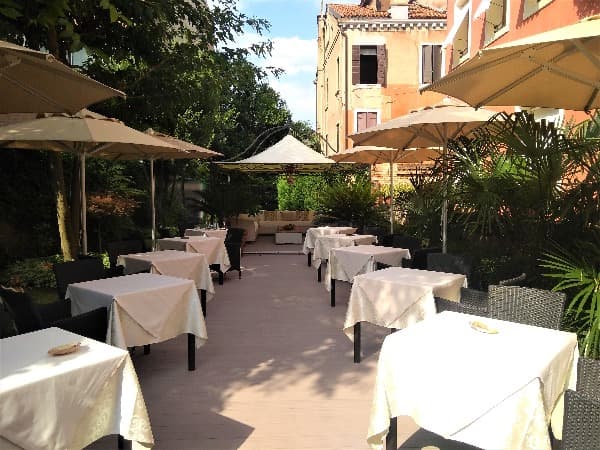 The garden is small but cozy and having your breakfast right there is a nice way to start the day. There's a small bar that also serves light snacks… In the evening you can order a drink and have some free Cicchetti, snacks with it. And there's a lift to help you with the bags. All standard comfort, wifi, airconditioning, and satellite TV.
Apart from being clean, beautiful and classy, it also has a local family feeling. The owners care for their hotel in a way the big international chains don't. Looking over the business, bringing a painting from their own house because it would fit perfectly right there… Helping out with the bookings. Taking interest in their guest's experience in a personal way.
Closest Vaporetto-stop would be Piazzale Roma but that's where all the busses and cabs come in so you probably would just walk from there. That's 300 meters and one and a half bridge. You'll understand what that means when you get here. The Taxi can drop you off in front of the entrance, but again, it's not really worth it. Just walk. From the train station, it's 600 meters though, two bridges of which one is long.
Venice Hotels 11. Hotel Indigo – Sant'Elena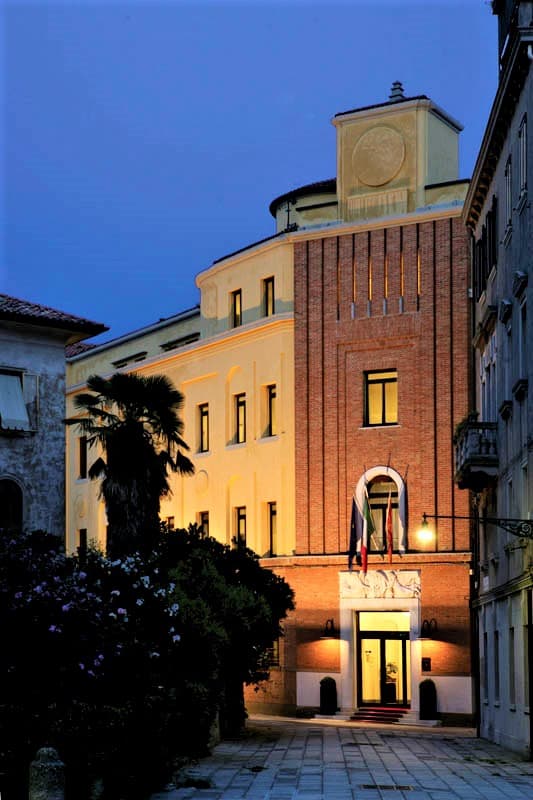 The 4-star Hotel Indigo at Sant Elena is an old hotel. Lately, it has been taken over by the Hotel Indigo – hotel chain and it has been renovated in 2019. It's a different place to stay because it's one of the very few hotels in Sant Elena, a very Venetian and calm corner of the city, and a favorite neighborhood of mine. It's close to the Biennale area, Giardini, but it's quite far away from everything else.
Another uniqueness about this place is that it's an ex-convent. As such it has an inner garden with sun-chairs. If they would have had a pool, this would be the number one choice of all the Venetian hotels. But already as it is today, it can be difficult to get a room, although they have 75 of them. From standard double rooms, which are not big, to the awesome Duplex Suite with Terrace on the top floor.
Decoration and colors are modern with a glance at the 30s and the 40s. The service is complete with free wifi, airconditioning, flat TV, coffee and tea- making machines and more. The building has an elevator.
There's a bar and a rather good restaurant.
You get there by Vaporetto to the S:t Elena stop. From there it's 200 meters with no bridges. With Taxi, it's the same or you can get a bit closer from the canal on the eastern side. From there it's 60-70 meters.
Lido di Venezia
At Lido, you can sometimes find awesome deals. When the tourists drop off after the hot season and the beaches become empty apart from occasional dog-walkers, then it's time to start looking for low-cost accommodations. In the lowest season, before and after Christmas, you can sometimes find prices that are ridiculously convenient at Lido. And apart from my own recommendations, just make a general search, and you will be amazed at how cheap it can be.
On Lido, you could also bring your car. There's a Ferry from Venice (Tronchetto) that brings you to Lido in 20 minutes.
Venice Hotels 12. Villa Contarini B&B
This is a very nice B&B, and it's in a pleasant district in a central position. It's close to everything, yet not on the main street. The Villa Contarini is a Liberty-style (Art-Nouveau) Villa from the beginning of 1900. It's been completely refurbished, and outside there's a pleasant Garden.
It's a B&B but it has a full-time reception and many services of a full-grown hotel. The rooms are clean in white-ish with parquet-floors. Stylish and sober, from single to family.
All standard features, Air-conditioning, free wi-fi, no restaurant inside but a vast choice in the center of Lido. There's free public parking nearby but maybe you won't be bringing your car anyway.
You get here by Water bus, line 1 (which is very slow) or line 5.1 or 5.2 (which is the same line going around Venice but in different directions. This is much faster.) From the water bus stop it's 600 meters. You can grab a bus or a Taxi… Or just walk. With water taxi you should be able to arrive 20 meters from the entrance if the tide isn't too low.
The Mainland
As already stated, on the Mainland, Mestre or Marghera, the hotels are much cheaper. It can easily be half the price or even as much as a third depending on when and where. If you are on a really tight budget or you don't want to spend your money on accommodation but on entertainment and other, more fun things, then you should check out Mestre and Marghera.
Mestre is big, Marghera is small. Mestre is where most of the people in Venice city, live. It's chaotic, disorganized and in the eyes of many of the Venetians, right out ugly. Someone has said that Mestre and Venice is the most beautiful city in the world married to the ugliest one.
Marghera was constructed at the beginning of 1900 as a residential area for the employees of the huge Porto Marghera. It has something extremely rare in Italy, a complete City Plan. Already a hundred years ago, they built a city around an octagonal street-structure with roundabouts on all junctions. Spots of green cover the whole urban area, and it has a certain small-town feeling over it. It's regarded poorer than Mestre.
In Marghera, there are no really good hotels. The only one I can recommend is
Marghera 13. Hotel Villa Adele
It's a small hotel situated in one of the houses originally home to employees of the big companies in the Harbor. 18 double- and triple rooms, all fairly basic, but with airconditioning, minibar, TV, wifi and a small private parking lot. It's a bit dated and the style isn't really worth talking about. Everything functional though, in good working order.
No restaurant but good breakfast. There are a lot of eating-services nearby (Check out the awesome Il Diplomatico here). Outside there's a small but comfy garden with tables and chairs. If you come to Venice by car this could be a good solution, to park it at the hotel and being able to watch over it. Parking costs 10 euro a day though, and you should book ahead.
On the plus side, you have a clean, friendly hotel situated in a calm area in a reasonably nice and friendly neighborhood. It should cost a fraction of the hotels in Venice. The position is very strategic with buses to Venice every 10 minutes and the ride will take another 10. Or you can walk to the railway station in 5 minutes. It's close.

Mestre 14. Leonardo Royal Hotel Mestre
Between the train rails to Venice and what we call the Rampa, there's a block that recently has seen quite a few big hotels grow up. It used to be a deserted area with abandoned terrains and buildings but now it's become a Skyline Hotel neighborhood. The accommodations around here are perfect for going to Venice, as they are close to busses and trains, but not very convenient for Mestre.
These hotels are all brand new, very big and somewhat anonymous… And they are cheap. Probably they need to establish themselves in a tough market and thus lowering the prices. Good for you. It could mean that the tariffs will go up in the future. Let's hope not. The four-star Leonardo Royal Hotel Venice Mestre is the best of them.
The german Leonardo hotel chain guarantees all you can possibly expect from a four-star hotel. As already said, the building is completely new and the rooms are likewise, with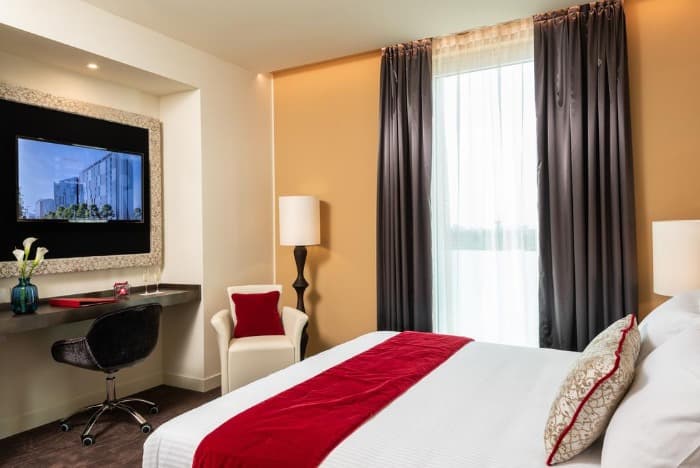 everything new and polished. It's all very shiny and modern experience. There's a fitness center, a conference center, restaurant, a few bars, and parking nearby (6 euro/day).
The trains roll by right behind but the soundproof windows and walls should take care of that. Remember it's all new and measures has been taken to isolate the rooms from the noise. There are 244 rooms (!) from double to Delux.
Right next to Leonardo Royal Hotel, within the same block, there are quite a few equally new hotels… Less luxurious and more basic but if you lock around you should be able to find some real bargains here. Remember that these huge buildings need to be filled, and for that, they will keep the prices down. I don't know them enough to be able to recommend anything. But please check them out.